Samurai Time Freeze: Switcheroo
Posted on: September 30, 2013
Nobu, Shinobu and Masa stayed around to play "hide the sword" for
Japanboyz.com.
The three boys are in various vignettes paired and in trios; how I do love a good "train ride." Sit back and enjoy, this goes on for a while so make sure you hold out for the last station, before "blowing your whistle." Nobu and Shinobu: This pairing starts with some hot sucking and body worship before Shinobu tops Nobu; don't worry, both get their turn and "one-in-one time." As Nobu sucks every inch of his partner's cock-ringed dick, Shinobu hardens fast and is wanting to backdoor Nobu. Sliding in, the Shinobu makes sure every inch of him is felt by Nobu. They then flip as Shinobu becomes the lucky bottom; his moans are immediate and arousing. Nobu, Shinobu and Masa: While Nobu taps Shinobu, Masa "cums" to play as well. He slides into Nobu and is the "driving force" of this train ride. From the side, all three enjoy the sensation as their "locomotion" is like the ocean. Ebbing and flowing, Shinobu puts his face in the mattress and takes it all in, happily. None of the boys blow their loads yet, oh but it's "cumming." Masa and Shinobu: Masa pairs up with Shinobu and the two get into a very passionate lip locking entanglement that has both boys wanting more. Masa then puts Shinobu on his back and gives him a pounding that has the bottom needing to "release." They then lie side by side as Shinobu strokes and Masa stimulates, areola style. Licking and tweaking his nipples, Masa watches for the "discharge of delight." As Shinobu "floods" his chest and stomach with jizz, Masa looks on, very intensely. Masa then tugs one as well, splashing up onto his stomach.
Get Your Membership & Instant Access Here!
Gay Asian Porn Videos
Samurai Time Freeze
Posted on: September 26, 2013
Oh my,
Japanboyz.com
has a sweet treat for us, and them today. Four boys begin, but who will "cum" in the end. Sitting on the bed, there is Nobu on the left, then Masa and Shinobu, in the red shirt. Our fourth boy is Kenshin, who wheels an ancient "Magical Samurai Sword," freezing time. With this power, Kenshin strips all three twinks as they are unable to move; dare I say, it's like an Asian buffet. "Butt," let's watch and see if the three can use their own "powers" on this boy and his "long weapon." Undressing the three seems like hard work; I mean, I'm already getting a chubby. When the twinks wake up naked, Kenshin stops time again, but not their ability to get hard, smart boy. Now I know Shinobu is "frozen" but I seem to see a growing smile on him as Kenshin focuses his attention on the boy's dick. The "warrior" then attaches some nipple toys to the twink. Kenshin sheathes the sword and as the boys awaken, they take the blade and use its powers on Kenshin. Pushing him back on the bed, six hands start to work on Kenshin's body and his "weapon." I'm seeing a growing smile on Kenshin's face, as well as mine. Awakening him, he is now bound and at their mercy, an envious position. Various toys come out and Kenshin becomes the object of the other three's "affection;" got to love the hum of technology. Fingering his hole, the three debate as to who will be their fist to "dip his sword" into Kenshin; "cum" back, there's lots more.
Get Your Membership & Instant Access Here!
Gay Asian Porn Videos
Daisuke's Return
Posted on: September 11, 2013
Today marks the return of Daisuke. He's "cum" back to be the hot bottom for Mahiro. These two Japanboyz.com twinks are into one another from the start. As they kiss and explore, both their dicks show the "enjoyment" each is feeling. Daisuke lays back his friend and engulfs his dick as he slurps in delight. Mahiro has some nice sized balls that don't go without notice; Daisuke massages them seductively. Enjoying all of his partner's appendages, the bottom licks and sucks head to toe, arousing Mahiro even more. Daisuke also spends time rimming his partner; you know what they say, "do unto others as you want done." The top now takes Daisuke's hole into focus as he lubes up the boy and fingers him. The sensation of Daisuke's pink rose excites them even more; it is not long before Mahiro enters his partner with an even bigger "digit." As the bottom moans and whimpers, Mahiro reassures his partner with kisses, before rolling him even further back and entering even deeper. Watching the boys, the camera picks up the moment when Mahiro has "hit the spot;" Daisuke's hard dick twitches as his partner massages his prostate. With a few more positions and a "hole" lot more passion, Daisuke then cums onto his stomach as his partner thrusts. With all this penetration, Mahiro, lost in the pleasure, does not pull out, instead, he creampies his partner; both take a bit to recover from the pleasure they have just shared.
Get Your Membership & Instant Access Here!
Gay Asian Porn Videos
Afternoon Delight
Posted on: September 08, 2013
In this "Afternoon Delight," for Japanboyz.com, Takeru is on the bed just waiting for some toy to eat, in walks Ko, wearing a jock strap that begs to be consumed. The two settle in for some passion and tongue lashing. Ko works to arouse his partner; his moans grow, as does his dick, as does ours. While Ko swallows Takeru, the camera pans behind the pair, we see the reason he is so "happy," besides Ko's mouth. The bottom's hole is so sexy and inviting. The top takes over and sucks his partner's very sensitive areolas before moving on to Ko's penis. Falling onto the bed in a corporeal 69, they ingest one another. Ko's cock lasso serves to stimulate with confinement; Takeru has no problem exciting with abandonment. Ko then gets on all fours; his full focus is first on his partner's shaft then on his own hole, soon to be "shafted." Ready for their mid-day adventure, the top fingers and Ko submits. The bottom whimpers and gasps as Takeru pushes all in and stimulates internally. Working "in" several positions, each experiences the spectacular pleasures of this pairing. Within minutes, Takeru pulls out to show his appreciation all over Ko's jock strap; great things "cum" in Asian packages.
Get Your Membership & Instant Access Here!
Gay Asian Porn Videos
Canu And Cristian - Globe Boys
Posted on: September 05, 2013
Thick black cock'd Canu is happy he has a chance to study with thin white Cristian. He knows that at some point he will de-pant this cute twink and sink his throbbing dong deep into his white ass. When he seduces Cristian he lies back and feeds him his knob. It isn't long until just as he anticipated he is filling up that white ass with his black cock meat.
Catch As You Can Part Two
Posted on: September 01, 2013
In Part 2 Hiru gets to suck Nobu. If you missed Part 1, this is one of those unexpected "spur of the moment" videos. We were booked into one of the largest studio warehouses to film. On this particular day there were quite a few of us (studios) there to shoot. We had just finished our first shoot in one of the brightly lit studios. When we entered the general waiting area where models and camera crews will wait during shoots, we came across these two boys that apparently couldn't wait for their shoot. Luckily the cameraman was with me and got some great photographs. Unfortunately, I forgot to change the settings on the camcorder before I started filming and the footage is a bit dark. My apologies guys. The scene was really good and I didn't want to waste it. Our editor did brighten it up as much as possible for us. During the scene, you'll even hear the other crew members and models talking and see Ko doing some exercises in the background. This is what you call "Catch As You Can"... enjoy! The models are Nobu (left) and Hira (right). It's a hot blowjob scene where both boys wind up with a mouthful and spit it out into their hands. I swallow myself, but this is porn and still my kind of blowjob!
Get Your Membership & Instant Access Here!
Gay Asian Porn Videos
Anutin And Amornwich - Globe Boys
Posted on: August 22, 2013
Anutin and Amornwich are two horny Asian twinks that are new to each other and their bodies; they take their time getting to know each other. After some initial foreplay they begin to lick and slurp on each other's hardening cocks.
Gilbert, Argie, And Jeff
Posted on: August 15, 2013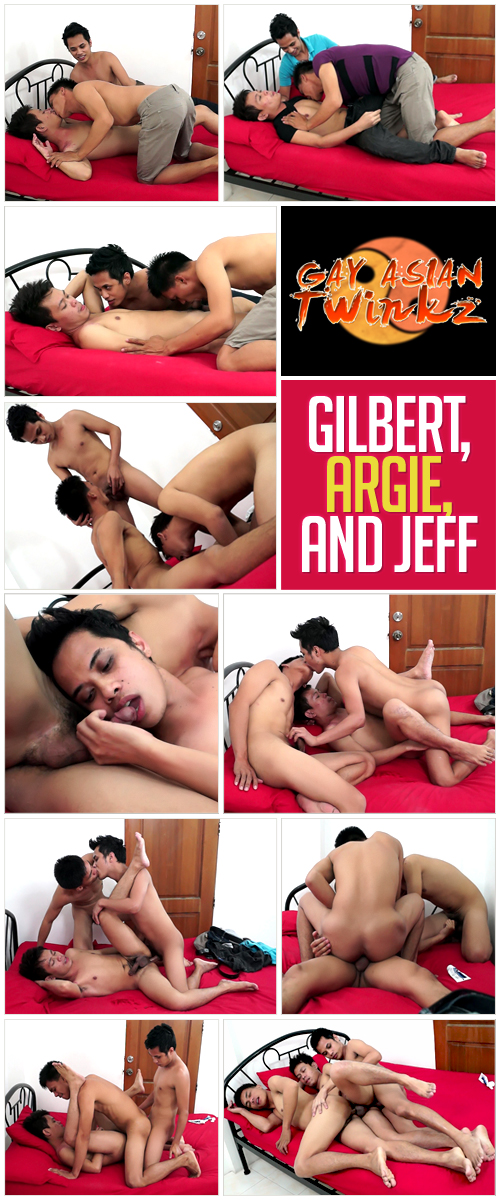 Gay Asian boyfriends Argie and Jeff have been bareback fucking in their relationship for 2 years. But things are getting too routine. They're looking for a way to spice up their gay sex lives. They invite their Asian gay friend Gilbert over to ask for his advice. Gilbert is happy about this and takes the opportunity to suggest what he's been wanting for a long time; a gay bareback threesome! And what an incredible gay sex threesome it turned out to be! The scene concludes with triple cumshots.
Gay asian twinks in hot gay asian videos!
Get FULL ACCESS to the entire CJXXX Porn Network with your GayAsianTwinkz membership!!